Mayfield MS 5K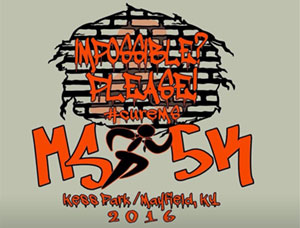 -- 2016 Results --
-- 2015 Results --
-- 2015 Photos --
-- 2014 Results --
-- 2014 Photos --
You have three choices in life: Give up, give in, or give it all you've got!
The Mayfield MS 5K Run/Walk event connects people living with MS and those who care about them. It is a day to come together to celebrate the progress we've made and to show the power of our connections. It's also a day to just have fun!
When you participate in the Mayfield MS 5K, the funds we raise give hope to the people living with MS in and out of our community. The dollars raised support promising research to stop the disease, restore function that has been lost and to end MS forever. Your dollars also help fund local programs for people living with MS right here in our community.
But most importantly, the Mayfield MS 5K Run/Walk brings our community/businesses closer together and helps raise awareness about MS and the many people in our community affected by this disease.
Register or volunteer today!
To Register for the 2017 Mayfield MS 5K, there are two options.

1. Pay via PayPal
• Choose "Register" tab.
• Enter electronic form and "Submit"
• A Paypal request will be emailed to you within a few days with instruction on how to pay via Paypal.

2. Mail in Registration Form
• Choose "Register" tab.
• Select link to download and print registration form.
• Please mail registration plus payment to:

National MS Society – Mayfield MS 5K
302 Macedonia Street
Mayfield, KY 42066
For information on the National MS Society, Kentucky-Southeast Indiana Chapter, please go to www.nationalMSsociety.org/kyw.
MS Pit Crew Community on Facebook
For more information on the Mayfield MS 5K Run/Walk, please contact:
Scott Toon
fltoon@yahoo.com
(972) 743-4698
or

Dana Toon
dana7456@yahoo.com
(270) 519-6880